Online marketplaces, e-wallets, mobile apps, different sites offer an opportunity to buy things or use certain services on a paid basis and in some way all these platforms are tied round your bank account. E-commerce today is hugely popular and users love a possibility to do shopping in the comfort of their homes, so hackers take at the flood to use this love to their own benefit. It is necessary to protect your sensitive financial information, of course, if your aim is not to defray hacker's pleasant pastime.
One of the recent accidents with Indian banking system has shown how vulnerable our information about banking transactions is: due to a huge security data breach hackers had received an access to the PINs of millions of card holders. After that, users had to change their passwords and banks had to block an immense number of accounts.
So yes, cashless payment possibilities are catching and convenient, so more and more transactions will be done this way. Still, informational security lapse can lead to disastrous consequences so it is essential to take every possible effort to secure your financial data.


Here are some workable tips how to protect yourself from any possible online financial danger:
1. Come up with a strong password and PIN code and change them regularly.
Take into consideration that your date of birth or other numbers from your personal information won't work as a strong PIN as they can be obtained from open sources (social networks and so). Passwords should also be long, include letters and numbers, plus it is advisable to mix casing. Experts offer an interesting twist: use a misspelled word so no one will guess it, or create your own word.
2. Do not note down passwords and PIN in a place where someone can see it.
Using strong and different passwords can result in forgetting them, so keeping it somewhere is a sound solution. However, this record should be hidden to avoid leakage. Make sure that no one watches you when you check the record at the store.
3. Take an advantage of two-level authentication.
Today it is possible to confirm any transaction with help of your smartphone: thus, every transaction will require a confirmation given from your handheld device. You will receive a one-time password that serves as a validation of your intention to spend the sum.
4. Pay attention to the places where you retrieve money
Bugged ATMS and point-of-sale machines become a real danger for your account as scammers are able to creepily steal all your financial information. Chip cards are more reliable than the old type, as magnetic strip can be duplicated and subsequently used for illegal transactions.
5. Think about your digital security
First and foremost, install the latest anti-virus and anti-malware software, so you can safely surf the Internet and install applications that won't harm your handheld device.
Do not follow pop-up links and do not follow links received from unknown contacts. Download apps from secured and legitimate app marketplaces.
Useful twist: when you have to use a public computer to enter your password to the account, use the virtual keyboard: this way scammers will not be able to uncover it with the help of keyloggers.
6. Do not let your children use your card without supervision
You may trust your children to stay within the predefined limits. However, you cannot always trust their judgment of vendor's credibility. Even if you do allow your child an access to some of your bank accounts, still a good idea would be to monitor your kids' text messages – there are scammers that pretend to sell popular gaming or Instagram accounts, which are hot items to teens. The scammers ask to send them credit card credentials via some popular text messenger. If you think that no one can be as naïve as to follow such instructions, you must have forgotten how reckless kids can be.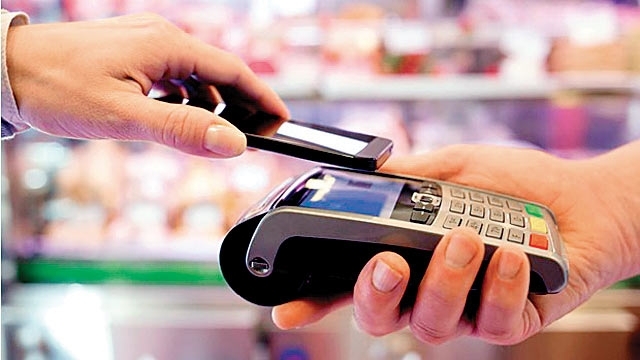 7. Install only trusted and secured apps for e-commerce.
Before you select the app for making financial transactions and keep your e-wallet there, make sure that you know everything about it, including reviews and feedback. The chosen app should propose strong security features!
8. Use a strong password for the application.
One of the disadvantages of using e-wallets on the mobile devices is that you cannot reverse payments as you do not use checks. So once a scammer gets access to your mobile device without a password on the app, be ready to lose all money from your account as soon as it is possible. Protect your app AND your phone with strong passwords.
9. Use anti-theft software
When your phone is stolen, such software helps to wipe all data remotely from the device including your financial information. Otherwise, loss or theft of your phone can be compared to a loss of your wallet. In addition, GPS-tracking of the lost or stolen phone can help you to bring it back.
10. Always shred your old financial documents
Your old bills and insurance details contain too much essential information that can be used by scammers, so you have to dispose of them adequately.