The beauty of blogging is that it's basically a mobile activity. You can access and update your blog from virtually any location provided that you have access to the internet.
Sometimes, it can be hard to get motivated to write when you're at home. You've been working from home for days on end and it each day may start to feel like the one before. Distractions can sometimes abound within the house. Or maybe you feel like you just need a creative spark. In any event, at some point in your blogging career you will run into a bout of blogger's block.
There are any number of ways to beat blogger's block. Many people will keep a list of topics to write about in a cinch. Others even keep entire spare blog posts that they can publish when they don't feel like writing. Or perhaps you have a large rss feed of blogs that you can read to come up with a topic. However, just coming up with a topic doesn't necessarily lead to that creative spark to write great content.
One of the best was that I've found to jumpstart my creative juices is to get a change of scenery. I love to find a place where I can take in the sights and sounds and really open up my senses to the world around me. At the same time, I can let my mind go free and really enjoy the feeling of writing.
Personally, I love to go to a place where there is a lot of bustle and activity. But that's a personal choice. There are times when I also look for a serene place where I can gather my thoughts. The most important thing is to go someplace where the atmosphere is different than your home office.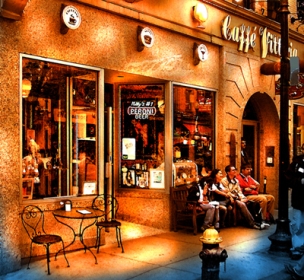 As I write, I am sitting in a coffee shop enjoying the outdoor scenery with the fresh scent of aromatic coffee wafting through the air. Here, I can soak in the bustle of activity as people come and go. I can look out the window and watch the world moving past. The sound of the music playing in the coffee shop is in the background. For me, sitting here and taking it all in helps me get into the mood of writing.
I often find that a complete change of scenery will jump start my thoughts and free me from a bout of writer's block.
The other benefit I find to taking my blogging out off my house is that I have the extra stimulus of the world around me. This can often help in writing when you want to add a personal touch. I can describe the scent of the fresh coffee jump starting my brain. Or describe the people around me in conversation about a current news topic. Perhaps I can even jump into the conversation and ask someone their opinion about something and add that extra voice to my blog post.
Each of these small things can be taken and put into your blog post to add that extra personal touch. A blog post tells a much more compelling story when it comes accompanied by a description of a scent or sound or touch. That extra sensory perception that you add to your post carries with it that human touch that your readers will appreciate.
These may all be small things, but you never know where a change of scenery will lead.
Do you have any tips or tricks that you use to beat back blogger's block?