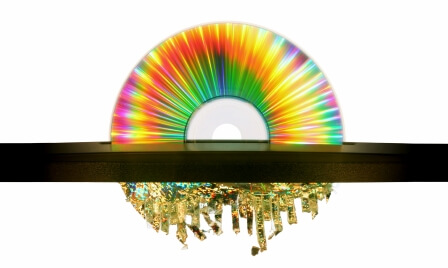 There are a number of problems both in compact disc (CD) duplication and replication. In CD replication, an identical copy of the original master is created by 'molding', and data on the CD cannot be manipulated. However, duplication is the process of 'burning' data onto a disc. Duplication is typically done for personal use and is ideal for low-run needs, but it produces lower quality and less durable work. Replication is ideal for professional work as it produces durable and more reliable copies of the disc.
Common Problems
One of the most common problems with artists that require duplication and replication services for their work is rushing. Many artists demand that their duplication and replication projects be done as quickly as possible, unmindful of the fact that this is the easiest way to ruin their work. Rushing can lead to inferior work that ultimately jeopardizes sound quality.
Another common problem is that artists routinely submit their work for duplication and replication without double-checking it. Failing to scrutinize the master plus the design works on the disc often leads to mistakes like submitting a scratched disc, and submitting the wrong disc in case numerous copies were made from the master. Checking the material before submission ensures that the disc has the right artwork, layout design, resolution, and formatting, and that the right master is submitted.
Besides the lackluster sound and artwork quality, there could be financial implications resulting from duplicating or replicating work that wasn't double-checked. In most cases, it will cost the artist twice as much to redo the duplication or replication project just because of issues that could have been avoided the first time around. As far as CD duplication or replication is concerned, the old adage that 'you're better off safe than sorry' holds very true.
Most of the work that goes into pre-production has a huge effect on the quality of the finished product. Therefore, artists ought to give a lot of attention to this phase before replicating and duplicating their work for mass distribution.
Tips To Market Your Music
Your aim is to earn as much returns from your project as you possibly can, and therefore, minimizing costs should be one of your main strategies. The choice between replicating and duplicating will certainly affect your costs. If you're looking to produce less than 1000 copies of your material, duplication makes more economic sense. Duplication is cheaper because it only involves duplicating the material on CD-R discs. Unsurprisingly, the quality is much lower than for replicated work, but nonetheless usable. Replication is ideal for runs of 1000 and above, but it is more costly because the material is pre-recorded on each individual disc. So, regardless of your objectives, duplication is practical for runs of less than 1000 while replication makes more economic sense if you plan to make more than 1000 copies.
Another factor that hugely affects your marketing and, hence, your profits is the choice of distributors. Carefully consider the added services that a distributor offers and weight them against your expectations. Expect to pay a small nominal fee for setting up and taking stock of your material, however, you don't want to work with a distributor who charges large fees to set up. The way you promote your music is directly proportional to the sales you will make, therefore, take your time to find the right distributor.