Promotional material shouldn't be something you are going to spend a lot of money on and in return gain nothing. It should help you spread a word or remind your former customers that they might need your services once again. You are not going to achieve this by opting for some standard promotional products – you will need something showier, something that people are going to find amusing.
Get ready to have your mind blown by these amazing gadgets that turn out to be a really good promotional material. Those of you who want to be brilliant in every aspect of your business should definitely include these promotional products in your marketing strategy!
Light Up Keyboard Brushes
These little brushes that have LED light in them are really useful, which makes them a perfect promotional product. If you want to avoid all those boring, cliché promotional products, this one may be just right for you. There is enough free room for a logo, but they are affordable and tiny at the same time. Step up to your competition and start giving away personalized multipurpose key chains.
LED Desk Fans
Yet another gadget that will keep anyone amused for hours – LED Desk Fan. It will make those warm summer days a bit cooler, while those LED lights will flash the message you required. You can choose between USB powered or battery powered ones – either way, anyone who gets an amazing promo product such as this will be thrilled, and this is precisely what you need – to be remembered.
Touch Screen Stylus Wristbands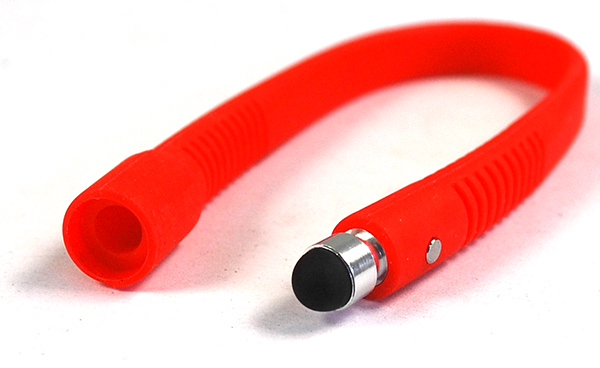 The world has gone crazy about any kind of rubber wristbands lately. Take advantage of this trend and choose to promote yourself with a little help of these colorful bands. They are so much more than just bands – they can transform into touch screen pens. They come in almost every color and many different widths and sizes. If you think that touch screen gloves were a huge hit, wait until you've seen these.
USB in Car Charger
Every driver needs this smart gadget in his/her car. How many times have you left your house in a hurry realizing that your cell phone battery is dying? If we are talking about some useful promotional gifts, this one might even take the first place. If you don't want your promotional material to end up in a drawer or, even worse, in a dustbin then give people something that really works.
Portable Speakers and Earbuds
Marketing companies all around the world started offering yet another interesting gadget – portable speakers. You want people to think of your company every time they listen to music on their cell phones? Then give them earbuds with your logo, or a pair of portable speakers. They will be able to turn the volume up a little bit when they use a Bluetooth device like this one. Plus, due to their size, one can carry them around in a purse, bag or even a bigger pocket.
Power Banks
This one is similar to the previous one with the exception that it doesn't need to be powered by car. These power banks will recharge your cell phone battery in the nick of time and there are even models that have a solar cell in them so all you need to do is let them soak in some sunlight. Since manufacturers started producing them in various sizes and of various qualities, those smaller ones became desirable promotional material.
Pokket Mouse
I guess Xoopar produced a wireless mouse without knowing that it is going to become one of the most interesting models. This happened because of its elegant finish, size and the ability to be used as a promotional gadget. If you are looking for a corporate gadget gift of good quality and amazing looks and, of course, you are willing to invest a little bit more than in all those others promotional products that are way cheaper – then you should definitely pick Pokket Mouse.
I hope that those of you who wanted something really special for the purpose of advertising their company are going to find these gadgets fun and worthy. Who says that advertising can't be fun?